Over the past day or 2, Titan's carer had been preparing for him to slip away as all energy and engagement left him. Miraculously his little head lifted yesterday and she knew the fight needed to continue.
The days were hard for dear little Titan with tube feeding, glucose and fluids being given subcutaneously (under the skin) and different medications being administered to fight his infection and to line his stomach to give much needed relief. Vitamins and minerals were injected or placed in his mouth and pain relief administered every 24 hours.
Titan's carer was happy to go to these lengths because she knew he was worth fighting for. She knew that so long as Titan was able to fight, she would fight too. Sleepless nights and heart aching moments were all worth it to try to bring this little life through. She also knew that, if it reached a time when Titan had had enough then she would also listen to that call.
Yesterday Titan surprised us all when his carer took him outside for some sunshine and he was laid on a blanket to rest. To her surprise he stood and nibbled on the fresh green grass for 15 minutes, a sign he may have been winning. If nothing else, it was 15 minutes when he was feeling well enough to act like a normal lamb.
Sadly, Titan's tiny body did not have the strength we hoped his name would give him. As another day starts this world is no longer made better by his presence. Titan slipped quietly away during the night, held by his carer so he would not be alone and would know how loved he was.
Run free now Titan with those who have gone before you, remembering that you will forever have a place in our hearts.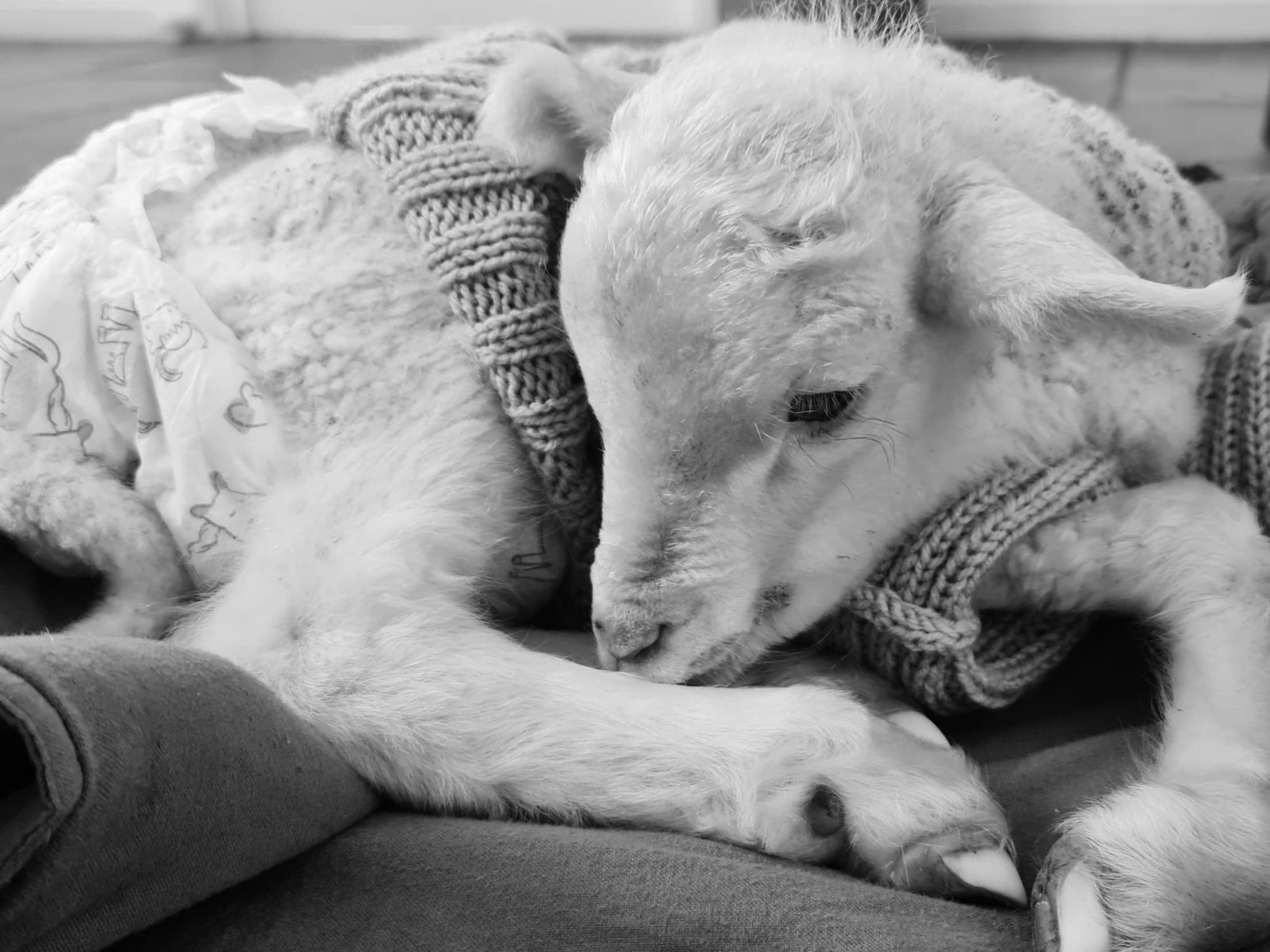 30 May 2021
Titan is very up and down at the moment so is spending all his time resting. His glucose level is being monitored very closely. When glucose drops hypothermia can set in which is what happened yesterday morning. He is being kept very warm which you can tell he really appreciates.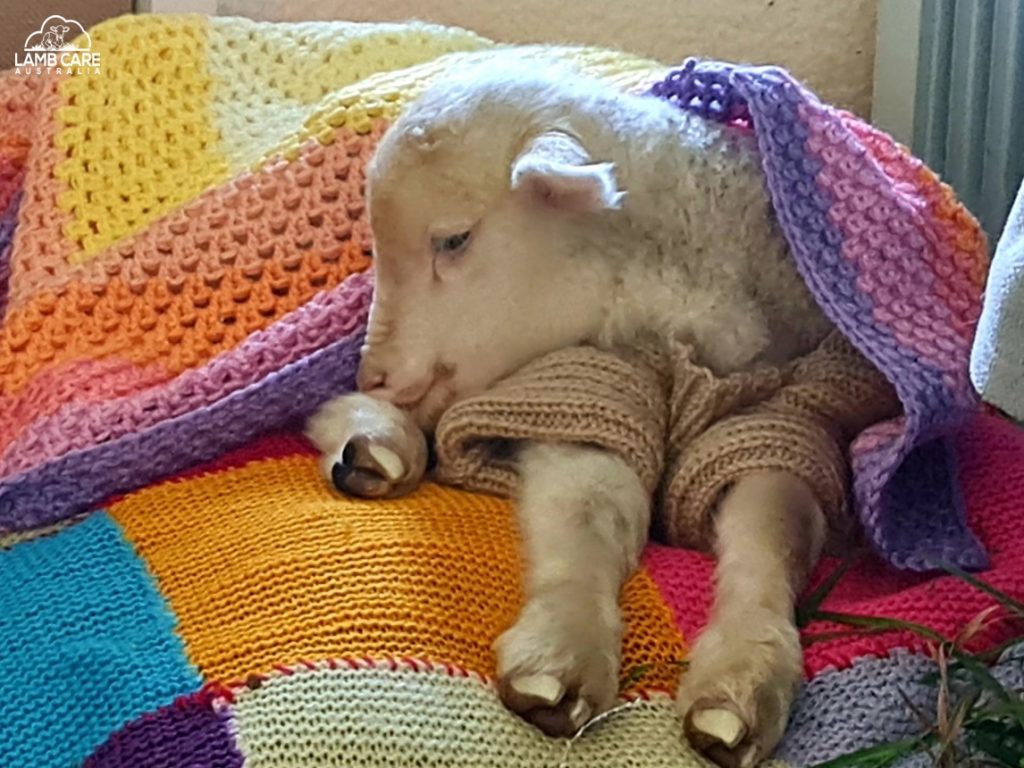 30 May 2021
"Titan" – someone with great strength.
Titan is still with us and, although he is desperately ill, he is showing the strength of his name in trying to combat the dreadful condition that is attempting to take his little life.
Titan is a very quiet lamb who doesn't complain about how bad he must certainly be feeling. He has a placid nature often seen in Merinos and his baa is very gentle. On the odd occasion when Titan is feeling strong enough he will follow his carer around like he would if he were still with his mum. Titan is just one of the millions of lambs each year who no longer has his mum. Lucky for him he was not left to die alone but is now in our care. We are doing everything we can to make him feel the love he would have felt if he had still been with his mum and to bring him through this life threatening illness.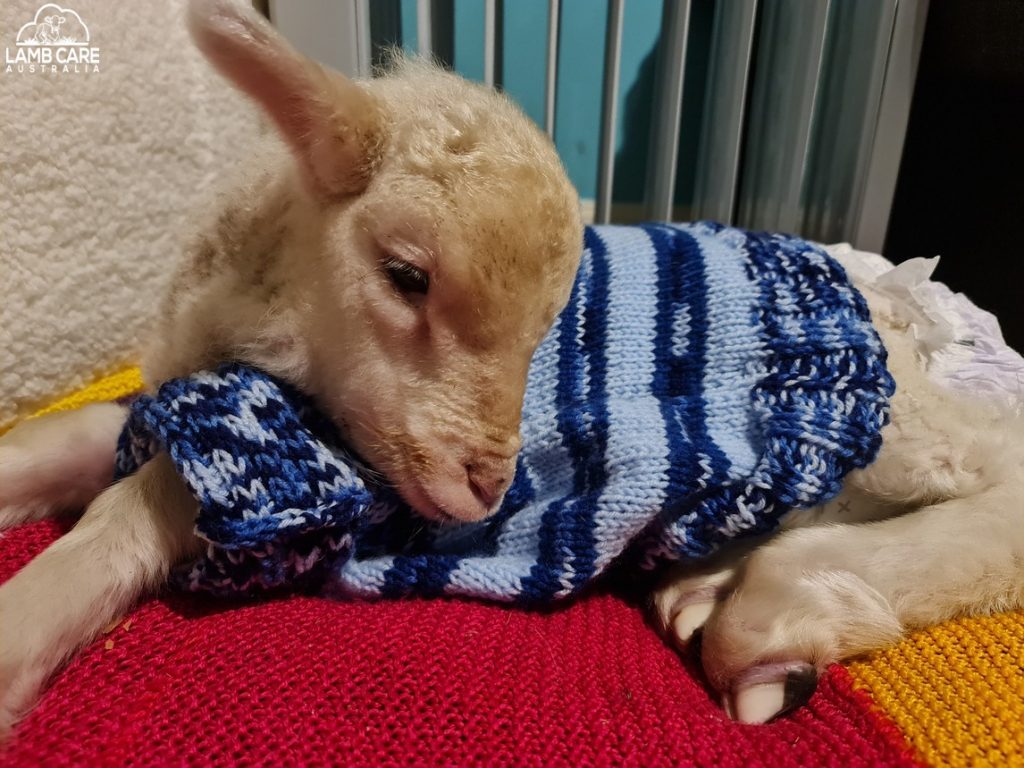 29 May 2021
Coccidiosis is a dreadful illness that is causing his little body pain, lethargy and stomach cramping. Titan has back at the vet again on IV fluids as he is refusing to drink so dehydration is a real risk. We are also trying to combat this with tube feeding. It's awful seeing someone so little feeling so sick. One thing that does make him feel a little more comfortable is the warmth of the heater and the close contact with his carer.
28 May 2021
Titan has had a rough time. He needed IV fluids and was diagnosed with a painful stomach bug called coccidiosis. Coccidiosis kills young lambs if not treated. Lucky for Titan he has received the medicine he needs. We are really hoping we are not too late. For now he is on pain medication and is showing interest in milk again which is a great sign. The black marks on his mouth are part of his beautiful face not dirt as we first thought.
27 May 2021
Titan, a dear little merino, has also just arrived. He is not a newborn but still very young. The farmer noticed him taking milk from other mothers, his scouring was so bad though that he needed to be bought into care. The poor little guy is feeling pretty terrible right now so we have given him some pain medication and medicine to stop the runny poo. We are sure with medication and a lot of love and kindness he will be feeling better in no time.